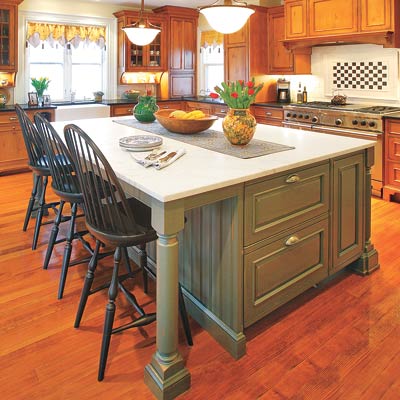 From This Old House Web Article
It seems to be the trend these days to install islands with seating, personally I don't like them. I hate eating at them because I can't see the people I am eating with and it doesn't facilitate conversation. I feel like an animal at a feeding trough. Even if I put aside my own particular prejudices against islands and the seating around them their are still many reasons to dislike islands. For example young children find it very difficult to climb up to island height chairs regardless of whether they are counter height or bar height as do women wearing the typical skirted business suits, the elderly,as well as those in wheelchairs or using crutches.
A better and more useful solution to the island is a large table that you sit at that functions as a work space and seating for guests so that you can chat with them as you work. This is an old fashioned concept but one that works with all individuals despite their height, age and mobility. A highchair can be brought up to the table, a wheelchair rolled up to the table, an individual with a cane or balance issues can easily get in and out of chairs and be part of the conversation.