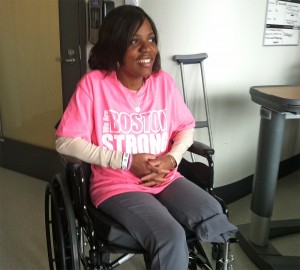 Our lives can change in a heart beat, as victims of the Boston Marathon found out. Many have lost limbs, had their vision or their hearing permanently affected. They never imagined that one day they would become disabled. Many will have to move to a new residence or significantly alter their home environment in to regain the independence they once had.
Most people take on a home renovation in their 30's or 40's in good health. Little thought is given to the possibility of becoming disabled or less functional than one is now.
This does not always have to be the case if one incorporates Universal Design into the design of your home, apartment or condo.
Universal Design is good design. It takes into consideration the many ways in which a space can be designed to accommodate as seamlessly as possible the many different abilities of its inhabitants and visitors whether children, elderly or the disabled without making a place look institutional. It is my wish and sincere hope that builders will incorporate more of the principles of universal design into the construction of their buildings as doing so benefits everyone.
Go and talk to an elderly relative and friend and ask them what they find hard to do. Spend a day with them assisting them in their home. It is an eye opening experience.
Getting into the Building

1. Have walkways paths wide enough to accompany a wheelchair and a person walking along side them.
2. A no step entry is essential to help those in wheelchairs roll right into the home. It is also helpful for the elderly and children. It is a feature that is hardly noticeable but greatly benefits all.
3. Install railings on both side of your walkway with bars at two different heights for children and adults. This will enable the elderly, those with balance issues to walk safely to your front door. It will also prevent you from falling on the ice in the winter.
4. Install dawn to dusk solar lighting along the path of the walkway to enable those with vision issues to clearly see their way.
6. Once at the door a doorbell low enough for someone in a wheelchair or a child to reach.
7. A small sturdy bench next to the door will enable the elderly as well as those who easily fatigue to sit and wait for the door to be answered. It will also enable you a place to put down packages while you unlock the door.
8. A lever type door handle will make it easier to open the door for everyone.
Once in the Building
1. Single Floor Living: Having a potential bedroom with a door and a closet along with a kitchen, full bathroom with at least five feet of maneuvering room, as well as a living and or dining room on the first floor provides the greatest amount of flexibility.

2. Wide Hallways or No Hallways: For the greatest ease of movement through a space hallways should be between 36-42 inches wide without obstructions into the space. This will make moving easier for someone in a wheelchair as well someone using a walker, crutches or movers moving furniture in and out of a space. An open floor plan with low or no thresholds also works well.
3. Reachable controls and switches: light switches that are from 42 to 48 inches above the floor, thermostats no higher then 48 inches off the floor and easy to read, electrical outlets 18-24 inches off the floor. This will make it easier for everyone especially those in a wheelchair, the elderly to reach switches and outlets easily. It also helps if the light switches glow and it is a rocker style switch to enable those with low vision and arthritic hands.
4. Easy-to-use handles and switches: Lever door handles and single handle faucets. as well as rocker style light switches, make opening doors, turning on water, and lighting a room easier for everyone and no one really notices the design as being anything out of the ordinary.
5. Built-in Storage: In the form or bookcases, banquettes, dressers and media centers reduces clutter and frees up floor space making it easier for individuals to walk or roll into the space without knocking into something or tripping. It also helps individuals with low vision by keeping hazards to a minimum. As a side benefit it helps make things easier to clean and keep clean because it prevents family members from setting things down where they don't belong.
Universal design allows you to hope and work for the best but plan for the worst.
Check out my Tenant Proof pinterest boards on universal designed kitchens and bathrooms.
http://pinterest.com/tenantproof/universally-designed-kitchen-and-bathroom-features/