Okay, I am giving in today and talk about dumb kitchen cabinet designs that serve no real purpose except for looks. Some of these designs look very attractive but I will explain why they are dumb in order to save you the mistake of installing them in your home..
The two open display cabinets on either side of the flirty French style hood (photo above) serve no purpose except for display. The location ensures that the display items will get covered with grease and require weekly washing. I don't know about you but I do enough cleaning. For an easier to clean kitchen remove these two cabinets and replace with nothing.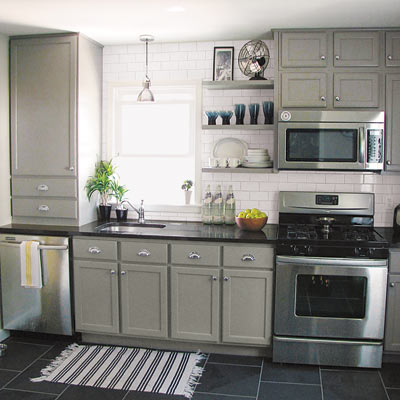 The cabinet extending all the way to the counter next to the sink.will get wet from the sink and rot. In addition, people will always be settings things on the counter just in front of the drawers requiring you to move them before opening the drawers. This is guaranteed to drive you nuts. I don't know what it is about ledges that causes people to put down little things there. Lastly these cabinets take up valuable counter space where it is most needed. A better option would be have a classic upper cabinet. If you need tall storage install an armoire in a location away from the sink but don't build this configuration.
Now let's look at the shelves next to the stove. This is something you will find in a shelter magazine described as a new way to "update" you kitchen. The stylist was only thinking of what would make an attractive photo, not about greasy dust that would collect on things right next to the stove. The stylist probably only eats takeout or microwaves. So my advice is don't do it, you kitchen really doesn't need this kind of "updating" not unless you like to add extra cleaning to your weekly routine. If you were really short on storage this area would be better served by an upper cabinet that reaches all the way to the ceiling and had a door. Imagine two upper cabinets just like the grey one on the left,without the drawers, on either side of the sink, traditional yes, but it works and doesn't require extra cleaning by you.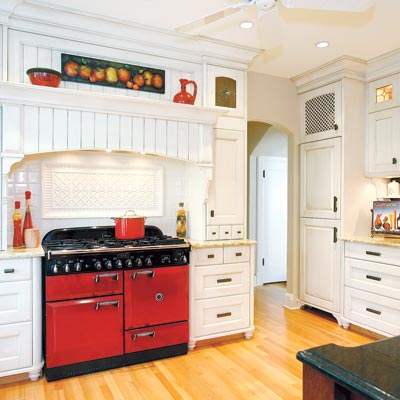 Here is yet another cabinet placement that just baffles me. When cabinets are extend all the way down to the counter top next to the stove this creates a fire hazard. It also swallows up valuable counter space on either side of the range to put items before and after cooking. In addition, this adds to your kitchen cleaning by requiring you to scrub the grease and food splatters off your cabinet sides. For safety reasons the best option is to avoid upper cabinets entirely near your range and instead put up wall hung pot racks on either side.